I'm Paul Randall, owner of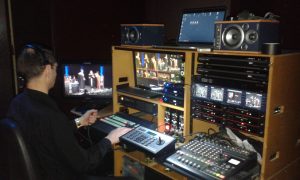 Captures Video Productions. I started out with my first video camera over 25 years ago and developed a real interest in the art of videography.  My hobby extended to videoing weddings and family events, and then about 13 years ago, I was given the opportunity to video a graduation ceremony. I spent many  hours preparing, researching and understanding the requirements of a live event. The first event was a thrill, and I immediately found a passion for live event video.
The team at Captures, and the depth of services that we can offer, has grown a lot since then. Today, with a team of talented, professional cameramen and c  camerawomen, we can provide multi-camera video for live events projected to the big screen, including graphics and on-site DVD duplication. As well as live events,  Captures is also experienced in corporate videos, filming for weddings and graduation ceremonies, and many more.
Work with our team of talented professionals
Find out more information about the services that we have to offer and read some of the testimonials from our past clients. If you have any other questions or want to get started on your next video project today, go ahead and contact us for friendly and tailored advice.
Our Clients